With Skylanders: Spyro's Adventure making money hand-over-fist… it's no surprise that Activision is jumping back in like a pig in mud. The first game was delightfully addictive (I… don't have all 37 characters or anything…) and featured a fun experience for both child and man-child. With such a success, it's good to see that Activision and Toys For Bob (The company responsible for the figurines) is expanding on the franchise in many different ways. Hit the jump to see more what's to be expected!
Oh, also… there is a series of videos exclusive to the Skylander's Facebook page breaking down some of the new additions!
1.) New Characters – There are going to be over 40 new and "new" characters announced for Skylanders Giants: eight Giant and normal-sized characters each (one for each element), and 24 redesigned first-generation characters. We saw a few of these at E3 and in various videos throughout the web. I'm really digging these new characters so far. Let's hope they don't go down the same road as Pokemon… (Vanillite, anyone?)
2.) Old Characters Are Still Good – You can use your current collection in Giants. Their level cap will increase to fifteen, but they miss out on a couple of abilities only gained by the generation two re-releases.
3.) Focus on Next Gen. Consoles – The original Skylanders was build with the Wii in mind then ported to the other consoles. This time around each is getting it's own focus, which means better graphics. Check out the gameplay video to see for yourself!
4.) More possibilties – There's a lot of time before the game is released this Fall. That means more news and reveals that I'm sure people who enjoy this cash-cow-franchise are excited for!
—
New Giants I've seen are Tree Rex (Life), Crusher (Earth), Bouncer (Tech), An Unnamed Water Skylander, and An Unnamed Air Skylander.
The new normal-sized Skylanders so far announced include Pop-Fizz (magic) and Jet-Vac (air).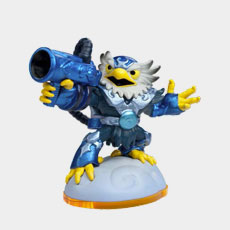 Some of the reposed Skylanders include: Trigger Happy, Cynder, and Prism Break. Four characters, like Prism Break will have built-in LED lights that illuminate when placed on the portal. All of the Giants will do this also.
Lastly, check out this picture I found while perusing the Internet. It shows off many of the new figures!